Casa de Case seeks-out, imports and distributes the finest olive oils to be found in Italy.
We are the exclusive U.S. importer of the D.O.P. Umbria extra virgin olive oil of Frantoio Olivestri located near Tuscan border, and the 100% certified organic extra virgin olive oil from Francesco De Padova, estate grown in beautiful Puglia.
Both of these oils are Gold Medal winners, and are the highest quality example of their individual style.
We distribute directly to the finest restaurants in the San Francisco Bay area, and we ship to fine specialty stores across the country. We also sell to consumers via this web site.
Once a year, immediately after the new oil is crushed at the Olivestri frantoio (olive oil press and factory), we airfreight it in for immediate distribution. We are one of the only sources in the U.S. offering this rare and wonderful olio nuovo.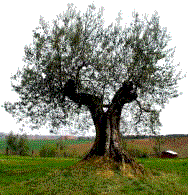 A thousand year old olive tree at Petrignano del Lago
Please Come Visit our Web Site
Just click on the logo below:

Importer of Distinctive Olive Oils
San Francisco