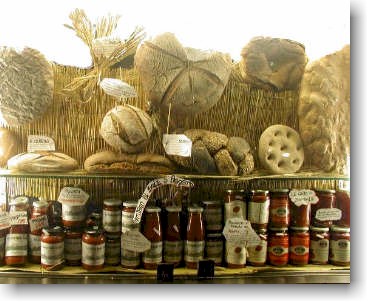 Store Display at Gastronomia E. Volpetti
The Aventino and
Mt.
Testaccio
Here is something to do in Rome not on the Guide Book A-List
After you have exhausted - and been exhausted by - the must-see sights of Rome, you might find yourself hungering for something with a little more verismo, reflecting the real Rome where everyday folks live and work. Testaccio will fit the bill perfectly. Nestled between a big bend in the Tiber and the Aventino Hill, Testaccio is an ancient working class neighborhood alive with restaurants, all sorts of shopping and a nice outdoor market.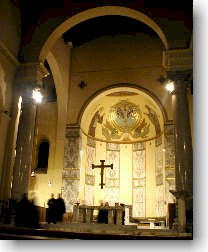 San Anselmo as Vespers End
The Aventino hill climbs steeply through dignified and serene residential streets to find a group of ecclesiastical enclaves at the summit, surmounted by pretty plazas and parks. One real treat: you can hear lovely Gregorian chant as we did one evening. Nightly at 7:15pm the Benedictine monks of the San Anselmo abbey sing vespers, and the public is welcome. Located on top of Mt. Aventino, it makes for a beautiful walk, culminated with the serenity of the chanted vespers as it draws dark. We took the metro to the Piramide station and walked up Via Porta Lavemale to San Anselmo. Be warned, however; it is a very steep climb! You might want to catch a taxi at the metro station and walk down after the service.
Down in Testaccio there is is a wealth of shops to explore along busy Via Marmorata, including an open air market nestled off the main street. Here, between Via A.Volta & Via Aldo Manunzio is one of the true treasure of Rome, Gastronomia E. Volpetti, one of the most amazing cheese and specialty food vendors in all of Italy. Check-out a few of the images from this great store below, and you wonít be able to resist heading to Testaccio. Step inside, and drown in the aromas and sights. Try to control your vertigo as the sensations whirl your mind. Regain your bearings, and let the affable owners Emilio and Claudio, who speaks a bit of English, shrink-wrap several very unique cheeses to take home. Defiantly taste some of the wonderful meats and sausages, but don't try to take any kind of meats into the U.S., even shrink wrapped. They will be confiscated (probably for the personal pleasure of the customs officers).
Trattoria Checchino dal 1887
Via di Monte Testaccio, 30
tel: (06) 574-6318 Closed Su & Mon.
Ä 150 for 2 for Dinner, Feb. 2004 Reservations essential.
Book on their website
before you leave for Rome.
Elio, Marina & Francesco Mariani
A Buon Ricordo Restaurant.
Within easy walking distance down Via Galvani towards the river is one of Rome's older and more famous restaurants, Trattoria Checchino dal 1887, serving some of Romeís most authentic food in a refined setting.
The food is old-fashion Roman, with many scary things on the menu, particularly offal (innards), because the restaurant is in the old stockyards and specializes in a cuisine called The Fifth Quarter. That means what was left over and given to the stockyard workers as partial payment. So innards and cheap cuts abound. But donít let that scare you away or fool you. This place is elegant (wear a jacket), has one of the best wine lists in the city, food that is elegantly prepared and delicious, and excellent service. Donít forget to ask to see the wine cellar after your dinner. The Testaccio hill is actually manmade from thousands of ancient amphora shards discarded from ancient merchant ships. You can see them neatly stacked in the cellar, which is carved out of the hill.
After dinner, if you are young or young at heart, Testaccio is the hot bed of trendy clubs, mostly serving-up cool jazz.
Enjoy some images of the great
Gastromomia E. Volpetti
Testaccio, Roma
Via Marmorata, 47
tel: 06 574-2352
Visit their website: www.Volpetti.Com (Italian) or www.FoodItaly.com (English)
Click the thumbnails for larger images.
All text and photos © Copyright Howard Case 2004