Anghiari sits on the opposite side of the Valtiberina from Sansepolcro on the way to Arezzo. We drove over in a heavy rain and only appreciated the beauty of Anghiari after we turned off the highway on the long straight road approaching the city and then climbs the hills to the pretty good height. The city is as perfectly preserved medieval town as you can find. We were delighted to find such a pretty place, since we were only there to find Busatti. We parked in the centro and crouching under our umbrellas asked someone where to find Busatti, which fortunately was just around the corner. What a surprise! In this out-of-the-way town with no real tourist traffic here was a very elegant and large store with several beautiful showrooms carved out of the medieval building.
We were graciously greeted by an English-speaking representative who took lots of time to show us the goods and explain the method of production, the history of Anghiari and of Busatti. How interesting! We fell madly in love with the beautiful fabrics weaved by Busatti. Mostly pure linen, but some in cotton and linen. Table, bath, kitchen, and bedding wares. All made on over hundred-year-old looms incorporating ancient designs original to the region.
As a major treat, the saleslady took us down into the ancient factory below the showroom, and we got to see these old and beautiful – and noisy! – looms weaving these gorgeous fabrics. The contrast of the bright colors of the threads and fabrics against the stark stone walls was startling. The ceiling was low and the air was choked with cotton dust. Thank goodness OSHA doesn't rule in Italy! Unbelievably, I left my camera upstairs in my coat and missed some great pictures.
We couldn't understand how they could keep these ancient machines running – some even had wooden parts. They explained that Anghiari was an ancient center for artisans making munitions and some have turned their craft to keeping the old mills of Busatti running. It turns out that Anghiari was a key location on the route from Rome to the port at Ravenna and developed an ancient weaving industry making military uniforms from the sheep grazing in the Valtiberina. What impressed us so much was the uniqueness and exceptional quality of these linens. We couldn't resist and ordered new drapes for our dining room and a beautiful tablecloth and napkins.
As we were closing up the transaction just in time for lunch, Mr. Busatti entered the shop, and we had a chance to congratulate him on the elegance of his wares. A gracious gentleman, he obliged with a picture. We told our saleslady we were looking for a good bowl of soup for lunch (Anna's dinners leave room for nothing more). She grabbed an umbrella and led us to a restaurant – it was closed so she trodded on to another.
This one was Ristorante Nena at the top of the town, up a very long and steep hill. Our climb was rewarded with the most delicious Tuscan minestrone we have ever eaten! The restaurant, of course, had Busatti linens on their tables. We started our lunch with Lardo di Colonnata, a dish Mike and Leslie had just told us that they recently experienced. Quite amazingly, at least for us Americani, it is pure lard (fat!) from pigs that is only made in the small town of Colonnata adjacent to the famous quarries at Carrara, and it is that marble that defines its uniqueness. The lard is pressed into Carrara marble tubs (called conca) with garlic, herbs, and sea salt for a minimum of six months to age. Sliced it is served with a little olive oil and some rustic bread. The result is intoxicating.
Over lunch we reflected on the treat of our visit to Busatti and how nice their drapes were going to look in our dining room. The pattern weaved into the cloth compliments the wallpaper and Venetian lace on the windows perfectly. Fortified we headed for Arezzo. Still raining, we missed the highway we had identified on the map, and just followed the reliable blue arrow signs. We lucked out and were directed on a lovely country road with no traffic along a small river through beautiful woods with several small waterfalls tumbling next to the road.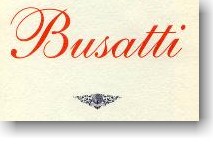 Click to visit Busatti Web Site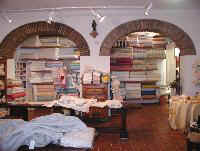 Room 1 of Busatti Showroom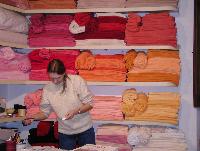 The lovely saleslady who
was so patient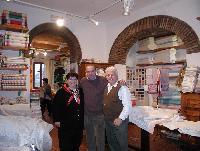 Sig. Busatti with his
newest customers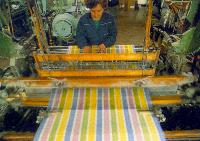 One of the great old looms. Picture from Busatti brochure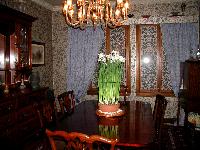 The drapes in our dining room met every expectation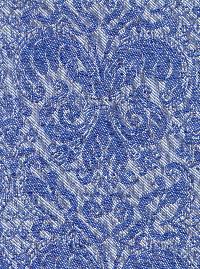 Woven Pattern in Drapes
(Most of these images are clickable for a larger view)