Lunch at the Enoteca Ca' de' Vén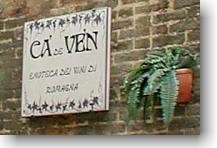 The second we walked into this fortress-looking edifice we knew we were in for a treat. The entrance is a preserved ancient shop, I think once a pharmaceutical supply or such, but long ago converted to a wine cellar and store – an enoteca, as such a place is called in Italy. The front salon has a massive bar and lovely old cabinetry and a high vaulted ceiling complete with a decaying fresco. This room is given over to retail sales.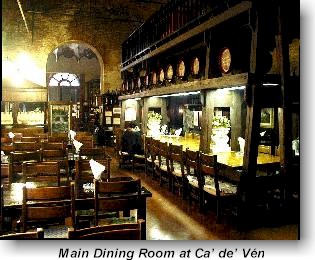 The cavernous back room has plain brick walls that are at least two stories high. Right down the middle of the room runs a massive A-line heavy-timbered rack supporting wine casks up high – and a balcony above that. Within the rack is built a single heavy table upon which is a pair of marble griffin-carved stands supporting fresh flowers. The remainder of the room has long refractory tables set perpendicular to the rack, and a row of doubles along the wall. When we entered, the room was full of business people eating pasta, piadini, pannini and the like. There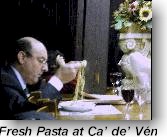 was an electric atmosphere of activity. We were seated opposite each other on the long table under the rack, where we proceeded to settle-in for the next two hours. Later, when we used the restroom, we discovered that the enoteca had another room equally as large as the one we were in. This was a garden room culled from an old courtyard.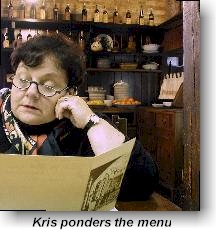 The menu at Ca' de' Vén, typically of enotici that serve food, is very basic, relying on a few fresh pastas, salads, antipasti cold meats, and pizza. There are no traditional secondo, dishes like roasted meats of fish. We asked the waiter if by chance they had any fresh tartufu, and to our surprise he said, yes, they did. We ordered two with simple salads. We noticed lots of folks eating something that we were not familiar with: a pizza-looking flatbread with all kinds of toppings. We later learned that this was piadia or more properly piadini de romagnola, named after the Romagna region. This is the fast food of choice for this region of Italy, and a more delicious one you can't find anywhere. More like a quesadilla than anything else, this is a flat bread, formed round that is grilled and topped with a varierty of ingredients – cheese, tomatoes, whatever you like, and then folded over for easy eating.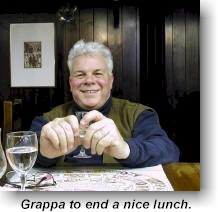 They are yummy. Just like so many regional things, they started appearing at the very north of the Romagna region here in Ravenna and became ubiquitous – even specialized stands with big signs – down the coast and up and over the mountains, to just before we emerged in Umbria – and abruptly they were gone. The extremes of "regionality" of Italy always amaze us. I remember on our first trip to Italy following dinner in a simple restaurant in Bologna we ordered Vin Santo. We had become accustomed to enjoying this wonderful after dinner libation, as is the custom in Umbria and Tuscany where we had spent the last few days. Now we were only a stones-throw away, the waiter didn't understand. I explained: A small vin dolce. Yes! He beamed, and returned with two effervescent candy-sweet glasses of Lambrusca. We were puzzled. All the way in the U.S. we know about Vin Santo, but just over the mountain range, they don't want to hear about it. It's wonderful actually because it shuns homogenization and preserves regionality. So much variety crammed in such a small space.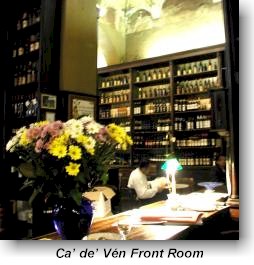 There is probably not many lunches we enjoyed more than that at Ca' de' Vén. The pasta was heavenly. The wine was wonderful. The atmosphere was intoxicating. We lingered over a grappa and coffee. We were perfectly rested and wine-inspired to attack the afternoon. Oh. The bill for fresh white truffles on fresh homemade linguini, a perfectly fine bottle of local wine, salads, coffee and grappa was $43. Amazing. Refreshed, we headed out for more of Ravenna's treasures.