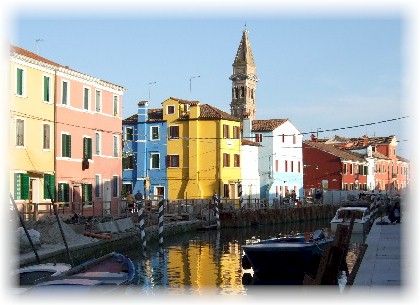 Pretty Burano
One of the world's great dining experiences is, in our opinion, lunch on the island of Burano, way up on the north end of the Venetian Lagoon. Taking the vaporetto from Fondamenta Nove is part of the fun. You can combine lunch on Burano with a visit to Torcello to see the beautiful and serene Byzantine basilica. There isn't much else on this pretty island, the place of the founding of Venice, but it is well worth the trip, with magnificent 11th Century mosaics and a campanile you can climb for a great view of the lagoon.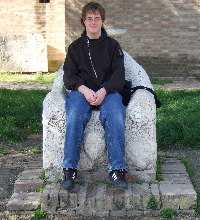 Dietrich on the Throne
After enjoying tranquil Torcello (and, of course, getting your picture taken sitting on Attila the Hun's stone throne), take the T vaporetto which shuttles twice an hour between Torcello and Burano.
Burano is a very beautiful fishing village and pleasant place to visit. Known for its colorful houses and artisanal lace work, it is lovely to stroll. If you fancy good lace, you need to be extremely careful, as almost all of it today is imitation, made in China. If you are observant though, you can still find an artesian old lady making the real and beautiful pieces.
Your real goal, though, for this day is lunch at Gatto Nero - a truly world-class experience. There is one dish in particular - Risotto Buranello, that is worth an entire day's journey. Famous all over the world, and now immortalized in a wonderful Anthony Bourdain No Reservations episode, this is one of the world's great risotti. It is made from the strange and ugly Gó fish, which buries itself in the lagoon mud. You can watch part of the Bourdain episode along with some videos and pictures we got of the Gó fish at the Rialto market here.
You can also get excellent Risotto Buranello on Burano at Da Romana, and this is where the Anthony Bourdain episode is filmed. It is a very historic restaurant that serves food of great integrity. In our opinion, however, Gatto Nero edges it out on overall quality, but you will not be disappointed at Da Romanna.
In addition to the great risotto, be sure to check the slide show for the amazing Grapa da Santonico, unique to the outer islands of the lagoon.
After a long lunch you should be heading back to Venice around sunset, and the ride on the lagoon will be beautiful. You can return the way you came to Fondamenta Nove, or a good strategy is to take the boat which goes completely the other way out to the Lido where you make a quick change at Treporti or Punta Sabbioni for the trip back to a dock near San Marco where you will be ready for a cocktail. It is a memorable rid on two kinds of boats, including a big double-decker.
Warning: Under no circumstances should you venture out to Burano for lunch without a reservation. You will be very disappointed.
In March of 2007 we took our grandson Dietrich to Venice, which, of course, included lunch at Gatto Nero. After enjoying the slideshow, check out the Burano Sunset page.
Enjoy the Meal!
Enjoy the Slideshow of our visit to Venice. If you see this message, your browser doesn't support text-changing features, so you will have to just enjoy the pictures & miss our commentary.