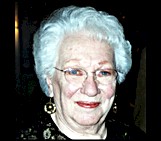 Mary Grace SCHROEDER Mary Grace Schroeder, 84, died August 29 at Swedish Hospital after a short illness. Ms. Schroeder, a Seattle resident since 1982, was a board member of the Northwest Chamber Orchestra, where she originated the education outreach program that provided concerts of classical music in Seattle area schools. Ms. Schroeder played a pivotal role in developing the Washington State wine industry. In 1975 she opened the second retail wine shop east of the mountains, in Richland. Ms. Schroeder hosted technical wine tastings for growers and wine makers, turning "The Cellar" into a resource and meeting place for leaders in the emerging industry. A founding board member of the Washington State Enological society, she developed consumer education programs. She led group trips to meet wine industry leaders in Germany, France, Italy and California. Ms. Schroeder's wine education programs featured collaborations with local and regional chefs to demonstrate how wine combines with food to create memorable meals. A noted cook herself, Ms. Schroeder studied with Kathy Casey, Julia Child, and Giuliano Bugialli. Ms. Schroeder was born in Missouri City, Iowa, and graduated from the University of Nebraska. She was the widow of O.C. Schroeder, an executive with Douglas Aircraft and United Nuclear who played a major role in the Manhattan Project and the post-WWII nuclear industry. She is survived by her sister Nellie Mulliken and sons Michael and James and their families. A private family service is planned. The family has established the Mary Grace Schroeder Memorial Education Fund and requests that remembrances be sent there.
Northwest Chamber Orchestra, 1305 Fourth Ave. #522, Seattle, WA 98101, 206-343-0445, www.nwco.org .

Published in print NWclassifieds on 9/4/2003.