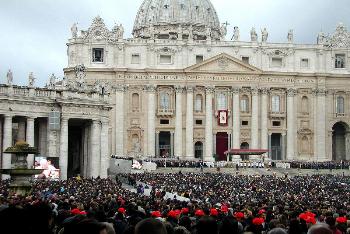 Sunday morning. Off to the Vatican. We hauled the religious paraphernalia gifts we picked up in Assisi in hopes that the Pope would come out on his balcony and bless the crowd. These things work better with a Papal blessing. Did we get a treat. As the taxi drove up the wide avenue toward the Vatican, with the now gleaming-white St. Peters looming bigger than life, we realized that the Mass on the taxi driver's radio was taking place in the square. A huge crowd. Huge. Huge. And, yes, the Pope was saying Mass. What a hoot. More like a sports event. We could only manage a spot under the beautifully glittering white Michelangelo colonnade. Good spot. A dramatic thunder and lightning storm opened the sky. Very impressive to see the entire piazza open umbrellas, and the assembled prelates on the stairs officiating all had color-coordinated umbrellas. The ones in white had yellow and white umbrellas. The ones in crimson, they had blue with Papal crests. Big screen TV in 4 spots on the colonnade, prominent Philips logos.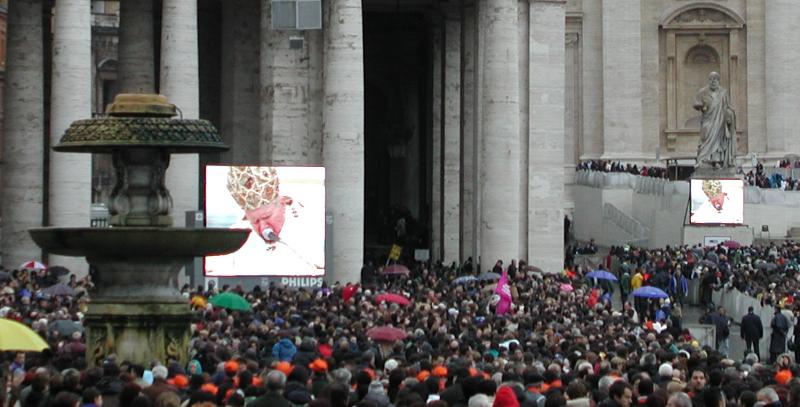 A speaker system that would make Bill Graham envious. Mostly it was a festival. There were actually groups picnicking. When it came time for the Papal Blessing, everyone became very attentive and quiet. When Mass was over, the Popemobile appeared on the stairs. They got the Pope in and drove it right down the steps on a ramp over the stairs and paraded up and down the wide aisles of the piazza. The crowd was cheering wildly. What a hoot. And, yes, you couldn't help be impressed and inspired.
From a previous trip we know of a great restaurant near the Vatican, Girarrosto dal Toscano, (via Germanico, tel 397-257-17) and headed there hoping to find it open. The streets were clogged with the pilgrims. We tried to reach it on the cell phone, but no answer, so our hopes weren't too high. Sure it was open. Just crowded, so why should they answer the phone? Managed a table. Our last visit was on a weekday and the clientele was all business. Sunday brings out the families. Almost no tourists. The people watching was superb. We shared some bresaola, and a stunning lasagna ("festivo only"). We spied at the next table some wonderful looking roasted meat and potatoes and asked. It was lamb and not on the menu. The waiter said "Sure, I have roasted lamb, veal or pork. But only on Sunday." The lamb for me, the pork for Kris. It was just perfect and we are now combing our Italian cookbooks to see how they made it so delicious. Soon we had finished our wine, so the couple at the next-table poured some from their bottle!
Italy the way I romanticize it. The way I know it. The way it is.
All text and photos © Copyright Howard Case 2000-2001