Saturday Night
Antipasti
| | |
| --- | --- |
| | Bruschetta of melted pecorino cheese and prosciutto |
| | Fresh local ricotta cheese drizzled with local honey |
| | Mushrooms stuffed with a meat an herb mixture |
| | Frittata. Fresh from the oven. |
| | Farm marinated vegetables: small onions, tiny carrots, green beans, red pepper, and cauliflower marinated in the most wonderful vinegar. When we praised the vinegar, Alessandro told how in his first year inexperience, he ruined an entire crop of wine and now has a 20 year supply of superb vinegar. |
| | A duck liver pâté- a light-as-a-feather pâté (like a mousse) served with toast. |
Pasta
| | |
| --- | --- |
| | A homemade pasta about the size of oracchiette or cavatelli with ridges for holding the sauce of fresh turnip tops and aged ricotta cheese. It was stunning. |
Secondo
Roasted duck with roasted potatoes.
The technique for roasting this meat we were to see again with rabbit and turkey - and later in Rome at a wonderful Tuscan restaurant with pork and lamb. The meat is cut up roughly leaving it on the bone. Then rubbed with garlic and herbs and roasted in the oven in a generous amount of olive oil. The just over bite-sized pieces are crispy on the outside and succulent within.
Fresh Garden Salad
Every night the secondo was accompanied by a fresh salad.
Dolce
Mt. Blanc
Puréed chestnuts and chocolate topped with whipped cream.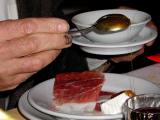 Jerry Drizzling the wonderful honey on his fresh ricotta next to a piece of prosciutto from Alessandro's "x-pig."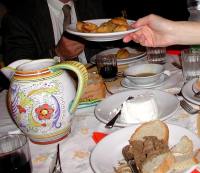 Liver Pate, Ricotta, Fried Cauliflower & Wine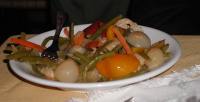 Vegetables marinated with Alessandro's Wonderful Vinegar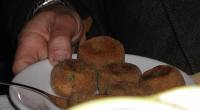 Polpetti
These are made with Tuna, Dried Ricotta, Parsley

Marinated Anchovies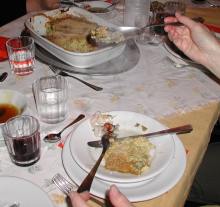 Vegetable Casserole
Thanksgiving Dinner
Antipasti
Prosciutto from Alessandro's "x-pig"
Ricotta cheese and honey
Marinated Anchovies
Vegetable Casserole
Prosciutto and Cheese rolls - deep fried (yum!)
Kris had been practicing these on all our guests at every dinner party since we returned from Italy.
Duck liver pate
Pasta
| | |
| --- | --- |
| | Anna's homemade tortellini with fresh local Umbrian black truffles. This was a real special treat prepared by Anna in honor of American Thanksgiving. |
Secondo
| | |
| --- | --- |
| | Turkey roasted with a stuffing of veal and pork, served with roasted potatoes. We had seen the turkeys in the pen until Thanksgiving morning. They were served because Alessandro know the American tradition. This tasted nothing like what we do to a turkey! |
| | Fresh Garden Salad |
Dolce
| | |
| --- | --- |
| | Fresh homemade tiramisu |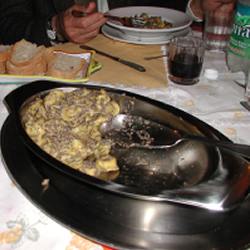 Thanksgiving's Homemade Tortellini con Tartufu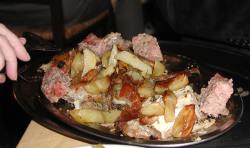 Thanksgiving Roasted Turkey with Sausage Stuffing and Potatoes