Alessandro and Anna
Several of the images will click for a larger view.
| | |
| --- | --- |
| | Alessandro and Anna Colluccelli operate the agriturismo Antica Fattoria del Colle just outside Deruta in Umbria. We spent a memorable week at their farm in November of 2000, and want to share that experience. An agriturismo is a working farm that has tourist facilities. Staying on a farm in Italy is a great way to experience the countryside. If you are not familiar with agriturismi, click here to learn more. |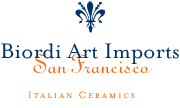 We first learned about Antica Fattoria del Colle (the name means simple "ancient small farm on the hill") from Gianfranco Savio, the gracious propriator of Biordi, the wonderful ceramic import store in San Francisco's North Beach. Biordi not only introduced us to the fabulous ceramics of Deruta, but was also instrumental in introducing this fine Italian maiolica to the United States. Gianfranco's and his wife's work has been truly groundbreaking, and there are now good stores with similar wares in other large U.S. cities. Deruta is the best know of the Italian pottery centers and carries on an ancient art using many of the designs dating from the Renaissance.
What really distinguishes the Antica is Alessandro and Anna. They have created an almost ideal agriturismo. The Coluccellis left the hectic city life of Rome a decade ago with their families warning they would meet certain ruin trying to run an old broken-down farm. But Anna wanted to pursue her passion for cooking, and Alessandro wanted to work with the earth. They have lovingly restored the farm into a wonderful destination, with lovely decorated and comfortable rooms, a large charming common room where meals are served near the big fireplace (in summer the outdoor patio is used), a pool and lots of activates like a bocce court, ping-pong tables and the like.

| | |
| --- | --- |
| The Upstairs Parlor | I can only imagine the work that went into transforming the property, beautifully situated down a dirt road through the woods, up on top of a cleared hill with stunning views of the surrounding countryside, including a pretty hill town to the north off their front porch. The main building's ground floor stables became the dining room, the space upstairs where 15 people lived without plumbing or heat became the Coluccelli's quarters, a lovely sitting room and two guest rooms. A barn became more guest rooms, and so forth. Alessandro said the first few years were very difficult and very touch-and-go, but now "it is just hard work." |
A Great Location for Exploring
We selected the Antica primarily because of its location. It is absolutely ideal for exploring the fabulous medieval, renaissance, religious and Etruscan riches of northern Umbria and southern Tuscany. Within easy day-tripping is an unbelievable list: Arezzo, Cortona, Anghiari, Sensepolcro, Spello, Montefalco, Orvieto, Todi, Assisi, Gubio, Perugia, and Deruta. All filled with amazing art and architecture. Deruta itself is worth a day with its plethora of ceramic factories and a terrific ceramic museum. If that were not enough, Rome is only one hour away on the train. In between these star attractions are a wealth of small off-the-tourist-track hill towns that are as charming and rich with culture and architecture and often more rewarding than the better-known towns.
Why an Agriturismo

What works so well for us traveling in a group and in staying at an agriturismo amidst these treasures is the convenience, the relaxation, and the camaraderie that the place induces. We rise to a satisfying breakfast (OK, at the Antica there are always three or four of Anna's homemade cakes on the table, so satisfying is a bit of understatement). We talk over where we want to head that day, see who wants to pair-up and then head out to spend the entire day crawling over the target sites. We generally don't attempt to go as a group to a particular spot, or if we do, we don't attempt to stay together, preferring to run into a familiar face in a strange land. We like to return to the farm around six so that we have time for a quick nap. There is a long night ahead and the day's sightseeing can be exhausting. Refreshed, we gather around the big fire that Alessandro has built and share cocktails and tales of the day's discovery.

Long after a visit to the Antica, what one remembers is the Colluccelli's hospitality and Anna's unbelievable cooking. A week at the Antica will surly put five pounds on even the most resisting waist-watcher.


Mike, Jim & Betsy Plan their Day


Deruta Maiolica on Anna's Table

Dinner

The main event of each day is, of course, dinner. At precisely 8:30pm Alessandro rings the cow bell on the wall and announces that dinner is served. The table is set with their spectacular collection of Deruta china and many jugs of Alessandro's excellent homemade wine. Anne is sequestered in the kitchen supervising the preparation and will only occasionally poke her head out for a look at how things are going. Soon the dishes start to appear. Antipasti. An hour and a half passes and we are still eating antipasti. One dish after another. On average we would be served 6 to 8 antipasti dishes (one evening there were 10!): prosciutto cured from Alessandro's own "x-pigs", vegetables fried or marinated in his own exquisite vinegar, ricotta cheese with local honey, prosciutto rolled, stuffed with cheese and fried (yum!), duck livers, a fresh frittata every night (the mint frittata was amazing), and more.

Alessandro reigns in the dining room. He certainly must spend his free time (I can't imagine that there is any of that!) studying the provenance and usage history of the foods he raises. There is almost nothing that he puts on the table that with a little prompting, he does not tell us – in very good English – the history of the food: when it first appeared in Italy, how its use has evolved, and how it is prepared today.
Without much rest, the door opens and heaping bowls of steaming pasta or hearty soup appear. Always homemade, and such a labor of love I can never imagine. Pasta shapes we have never seen like the little ovals turned with ridges. Alessandro explains the history of these little gems and goes to get the little wooden board that Anna uses with her thumb to turn each and every piece. There are four huge bowls. Sauces all homemade from farm ingredients. Somehow we manage to take seconds even though the main course is on its way. Rabbit, duck, beef, or turkey – always with potatoes and vegetables. The dishes are cleared and a beautiful salad appears. We eat it.

It's eleven o'clock. We are all stuffed. We have been drinking the great wine like water. We are laughing and talking. We relax for a few minutes and the door opens again and out comes Anna (to our applause) with desert: apple pie, ice cream with cherries and whipped cream, or chocolate cake. No one refuses.

Around midnight Alessandro bids good night as he opens the huge chest against the wall filled with liquors, degistivi, grappas and the like. We liger for another hour, vowing we will never eat another meal like that again. And we won't. Until the bell rings at 8:30 tomorrow night.


Some More Wine for a
Merry Thanksgiving Dinner


The Group with Alessandro & Anna
and Perry & Graham on Thanksgiving Day
To Visit The Antica Fattoria del Colle Web Site. Click Here.

All text and photos © Copyright Howard Case 2000-2001